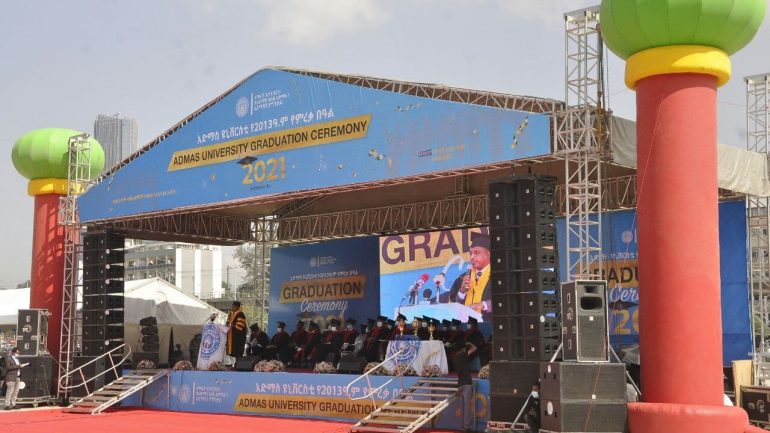 Admas University, which is one of the pioneer Private Higher Education Institutions in Ethiopia, commenced its operation in October 1998 under the name "Admas Business Training Centre." The Training Centre then started delivering training services in certain tailor-made short-term programmes. By undertaking deep assessments of further training needs and making preparations in terms of the required human and material resources, the centre upgraded itself to a college status as of April 1999, and to the status of a University College as of March 2007. Finally, after ensuring that all the requirements of Higher Education Proclamation No. 650/2009 have been met, the Ministry of Education of F.D.R.E. granted full University status to Admas as of July 2014.
Since its establishment, the University has graduated more than 37,000 (thirty seven thousand) students in various fields of study with Degrees, Diplomas and Certificates in conventional regular & extension and distance modes from its campuses in Addis Ababa (4 campuses), Adwa, Dessie, Bishoftu, Hargeisa_ and from more than 60 coordinating offices of the College of Distance Education.
The University has undergone enhancing its capacity of rendering quality training and education. It also facilitated the conduct of external quality audit by The Federal Democratic Republic of Ethiopia's Higher Education Relevance and Quality Agency (HERQA). The audit proved that the University renders quality education and training services as the conclusion of HERQA's audit team reads on page 7 of the audit document; "The overall conclusion of the EQA team is that Admas University College has grown successfully in a planed and purposeful way and is firmly established as a major provider of higher education in Ethiopia." Admas also scored the highest result during the 2003 HERQA's audit. Getting audited by HERQA for its distance education, Admas again scored a highest result, and became one of the few Institutions given license to pursue rendering distance education once the Ethiopian Government had forbidden the delivery of distance education by Private Institutions during the year 2004.
All the education and training programs of the University are fully accredited by Higher Education Relevance and Quality Agency (HERQA) and Technical and Vocational Education and Training (TVET) Agencies of the regions where the University operates. As a means of addressing its plan of working from KG to PhD level on the one hand and to diversify its services to the community on the other, Admas is now awaiting MoE's reply on its accreditation request for postgraduate_ master programs.
Besides, the University is engaged in various research and publication activities. In order to foster the research culture of its staffs and students, the University conducts different types of research seminars, conferences and symposia which include Annual International Research Conference, Annual National Research Conference (8th time till now), Annual National Students' Research Conference, Annual Campus-based Research Conferences, Biannual Academic Discussion Forum, Biannual Students' Discussion Forum, and Monthly Seminars among others.
As a means of disseminating the research outputs, Admas publishes such journals and other publications as Admas Development Journal, Journal of Business, Journal of Informatics, Journal of Education, Horizon, Experience Admas, Admas Quality, Voice of Distance, The Triple Voice, "Finote Admas", Admas Monthly, Admas Weekly and different campus-based monthly publications.
Admas University has crafted Community Development Policy, Strategy and Guideline to serve the community pragmatically. It also has a dedicated office led by a director to deal with such affairs. In line with this, Admas University has been doing all its best to serve the community through various ways. Some of them include: realizing research-based community development intervention packages, designing and implementing different projects, providing training in various areas, sponsoring different events, responding to different calls, participating in public awareness raising walks, donating blood, protecting the environment, becoming member of different communities, and mobilizing f different clubs and units.
Admas, via its one of the highly empowered wings_ the Quality Assurance Office, is being frequently visited many Private and Public Higher Education Institutions these days. As an office directly accountable to the president of the University College, it has the responsibility of supporting and monitoring, the academic, business development and administration and finance wings of the University with special emphasis on how they are accomplishing their activities against their plan and the already set working standards of the University. The Central Quality Assurance Office coordinates all the quality assurance organs in each college. To this end, the office has adequate officers and higher experts including those who have Doctorate (PhD) Degree qualification levels. The office also has different quality related committees at different levels.
For its dedication towards quality services, Admas is awarded appreciation certificates in two subsequent rounds of the Ethiopian Quality Award Organization. Still true, Admas is the only member of International Network for Quality Assurance Agencies in Higher Education (INQAAHE) from Ethiopian Private Higher Education Institutions.